African drums, horns and brass, guitars, Mama Tumba brings it all. Their dynamic sound has as many layers as the band has members.  At the Earth Day Fair and Music Festival at El Chorro Regional Park, the group had attendees dancing for the duration of their 2 hour set. Their lively blend of African and Latin rhythms brought an eclectic and lively end to the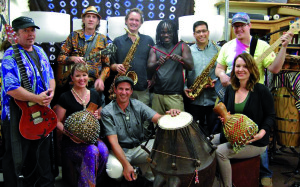 one day event.
"The origins of music and humans are found in Africa, a common theme of our music is the oneness we share in our origins," said guitarist Paul Trent. The name Mama Tumba also has its origins in Africa. Not just a name, it also refers to the group's mascot, a large very, very old drum from Africa.  Mama Tumba translates to Mother Drum in an African dialect. The Mama Tumba hasn't lost any rhythm or sound with age apparently.
The drums provide the lively foundation for the layers to build on. Upon listening to the group, salsa, Brazilian samba and African rhythms were just a few of the vibes that could be heard coming from the diverse group on stage. The mood was festive and the energy was high throughout their set. There was hardly a lull while they were playing.
The group seemed to feed off the energy and merely grow as more and more people began to feel the rhythms, make organic movements and dance. One woman with a hoola-hoop had no trouble moving to the rhythms of the group. The backdrop of Earth Day fit the group's sound very well.
"The message of Earth Day is for us to combine in our efforts and respect the earth and what resources we have. We hope to inspire a similar respect and love for those around us and the earth itself through our music. I'd say in that sense Earth Day and Mama Tumba share a purpose," said Trent.
Although keeping eight members together and in sync must seem difficult, the songs seemed well practiced and each section was crisp and in sync. The rhythms were easy to feel judging by all the dancing from festival-goers. The group made an effort to connect with attendees not just through music. Members of the group gave a drum lesson to show what playing their beats and rhythms feels like.
Drummer and conga player of Mama Tumba, Tim Costa, led a drumming class earlier in the day that was nearly as lively as the groups set despite not having any added vocals or brass sections. The rhythms and harmony still permeated and inspired movements from the crowd.
In a day that featured beautiful music throughout, every act seemed to suit its time slot. Mama Tumba's final closing inspired dance and brought people together in the way music should. For a celebration of the Earth and its resources, Mama Tumba was right at home.