The Erin Inglish Band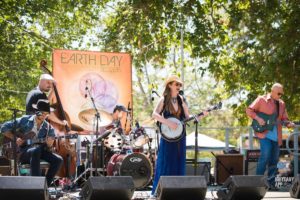 Insightful songwriting, lush harmony singing, and fearless picking, this act features the award-winning songwriting of California banjo chanteuse Erin Inglish (expressive, sassy, dynamic banjo; lush and raw power-house vocals) galvanized by the soaring harmonies, tenacious solos and gritty rhythmic drive of her "Blues-grass" band. Luminous musicianship and rhythmic groove, the Erin Inglish Band presents a high-energy, entertaining, positively-charged act – steeped with harmonies and instrumental prowess on the banjo accompanied by percussion, guitar, fiddle, bass, and a rotating collective of guest minstrels.

The Noach Tangeras Band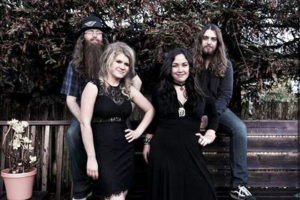 The Noach Tangeras Band is a new Americana style band with roots in folk, blues, country, and rock. Lead vocalist/songwriter/rhythm guitarist, Noach Tangeras, is accompanied by Rachel Santa Cruz on harmonies/keyboard/light percussion, Adam McAlexander on lead guitar, and Jeremy Lemen on the cajon drum. Together they bring a retro folk rock sound with power house vocal harmonies. Some influences are Janis Joplin, Creedance Clearwater Revival, Dolly Parton, John Denver, as well as  Alison Krauss.
Noach Tangeras grew up in Indiana, went to school in Maine, and traveled around the country before pursuing a music career on the Central Coast of California. She has an education in marine biology and enjoys the great outdoors and the arts. Some of her original songs are very much inspired by the natural world.
Mama Tumba

Returning to the Earth Day stage for 2017 — Mama Tumba will be generating high energy from the stage with its African and Latin rhythms. Not just another dance band, Mama Tumba brings people together and is a complete multicultural show that embraces the oneness of all.  "Unity in Diversity" is a conscience theme they share.
Based in San Luis Obispo County some of the most accomplished world beat players of the Central Coast make up Mama Tumba. Featured on percussion, the infamous, Tim Costa; on guitar and driving force of the band, Paul Trent and on lead and rhythm guitar Mathais Clark. The horn section includes the diverse talents of John Lee on saxes, flute and percussion, Jordan Adams on trumpet and Max Linsenbard on trombone. You'll find West African master drummer Antiye Menseh on drum set and djembe, Karrie McKinney on djuns djuns (African bass drums), flute and vocals, and Lauren Riffle on vocals.
The bands totem, an over one hundred year-old, rare antique drum from West Africa, was on its way to the Smithsonian Institute when Costa made arrangements to purchase and care take the "Mama Drum".
Tim Costa and the Healing Drums
Tim Costa and the Healing Drums are a local community drum class sharing the tradition of the DJembe or "Unity Drum". This year the group will introduce a newly constructed "King's Drum" that will be heard acoustically for miles.