EARTHDAY = reconnect PEOPLE + PLANET + PEACE
Artwork designed by Scott Kam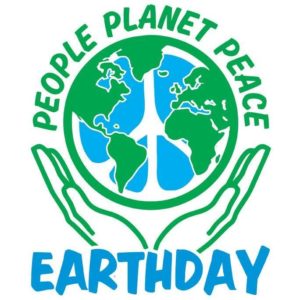 Artist's Statement:
People –  There is only one race, the human race. it is important to value cultural, ethnic, racial, sexual, religious and spiritual diversity, and to promote the development of respectful relationships across the human spectrum.  We all should be helpful to those around us. Especially the strongest need to help those in greatest need. People are symbolized with the Earth in our hands; we must encourage respect for all life forms, and increase attention to the preservation of biodiversity
Planet –  People are the stewards of the planet and our responsibility is not only for creation care, but also to protect and celebrate earth's environment. We need to teach our children to have an understanding of the earth based on science, that all living things are interconnected and anything we do to that web of life we ultimately do to ourselves. Planet is symbolized as the Earth which everything revolves around; we need to give and live with love, respect and gratitude for all Earth's creations.
Peace – Our country's long wars and worldwide military presence are immoral and unsustainable. World Peace doesn't just mean for all to be in a place where there is no violence or war, it means for all creation to have the ability to be calm in heart and mind. It's mutually beneficial to practice tolerance and live together in peace with one another as good neighbors. Peace is symbolized as the Earth's water; we must strive to thrive with peace and clean water for all.